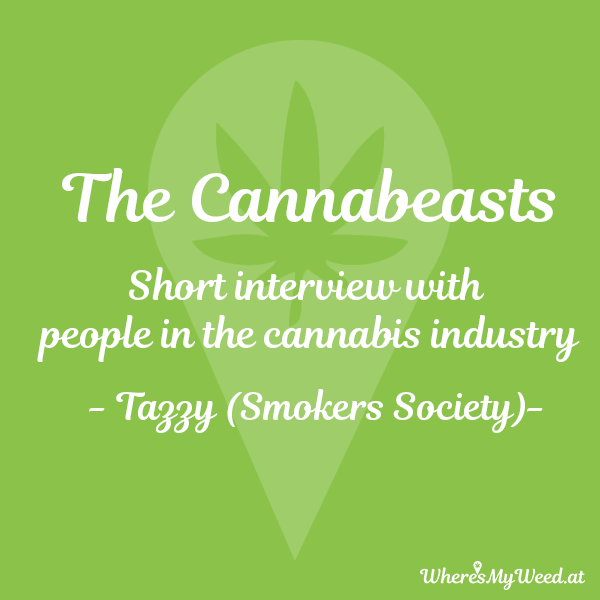 1. Would you mind telling us your name and your company? – My name is Tazzy and I am the founder/owner of the Smokers Society, 420 Fashion Week, Hemp Life Magazine, just to name a few lol.
2. So why did you decide to start your company? Whats your vision for the company or the brand? – The Smokers Society was created to give artists, models, business professionals as well as other creative individuals and groups a platform for self-expression.  I am an artist, so I wanted to create an environment where we can help bridge the gap between Cannabis and music (weed + music = hemp life).  In addition to celebrating "Hemp Life", I also strive to promote the benefits of Cannabis as well as show the world that it's bigger than just smoking weed!
Our Vision is to be a voice to the Stoner Community – globally.

3. What is the one thing that most people underestimate about starting a company in the cannabis industry?  – That it's only about smoking weed or that it's easy!  The Cannabis Industry is deeper than that.  It's a lifestyle…it's a culture…it's a community…it's a business.  At the end of the day, we tend to support each other more because we understand the struggle and/or share similar stories.      

4. Whats the best part of your job? – Building relationships and meeting new people.  Everyone has a story or some sort of dream and it's just dope to be able to come together (in a non judgmental environment) to share & create creative content.  I also love music!  So hearing pure, raw and uncut talent from across the world motivates me to keep doing what I'm doing!
5. Do you have any advice for anyone who wants to have a job like yours? – Never give up!  It's not easy and it doesn't come overnight!  Everyday you are a work in progress and some days may be better than others.  The key is to believe in yourself (despite what other people may think) and keep pushing by any means necessary!  Even if you have no support, or still have to work for someone else to get to where you need to be, invest in yourself because every day you can be that much closer to making your dreams a reality!!! 
At the end of the day, taking baby steps is better than taking no steps at all!  You also have to learn that we do not fail, we just learn from our experiences and grow from there!!!

6. Whats your three favorite strains? And your absolute fave munchies food or drink. – My favorite three strains are Gorilla Glue, Girl Scout Cookies and probably some type of Kush.  My fave munchies are pizza, fries and chips with some sort of dip or salsa.